Scientific Highlights:
the Horizon simulation performed at CCRT (CEA)
the MareNostrum simulation performed at BSC (Spain)
the GALMER database is now online.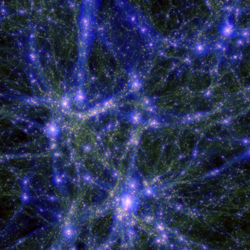 Composite image of MareNostrum
red: dark matter gree: gas density blue: temperature. also available at full res
here
and in
false colour
The objective of the HORIZON Project is to federate numerical simulations activities with a program focussed on Galaxy and Large Scale Structure Formation. In a context favorable to HPC (High Performance Computing), the PNC (Programme National Cosmologie), the PNG (Programme National Galaxies) and the PAP (Programme AstroParticule), express their needs to stimulate and coordinate individual efforts in HPC among each domain.
The HORIZON Project was build on several research teams in different institutes. The scientific objective is specifically oriented towards studying galaxy formation in a cosmological framework. Its transverse and federative nature will however allow to develop in a few years high-level expertise in parallel and distributed (GRID) computing, in database management and virtual observations, in applied mathematics and computer science, and build in the same time a strong theoretical knowledge in astrophysics.
The main objectives are:
Numerical study of galaxy formation in a cosmological framework using Grand Challenge applications
Develop advanced techniques in parallel computing and in applied mathematics to model galaxy formation and predict their observational signatures, as a function of physical parameters
Gather renowed experts in computational astrophysics, share their softwares and expertise, and optimize their access to national and international supercomputing facilities
Provide to the scientific community, and in particular to the AstroParticle, PNC and PNG communities (both observers and theoreticians), a friendly access to state-of-the-art numerical simulations